Church celebrates leadership of Class of 2022
02 Sep 2022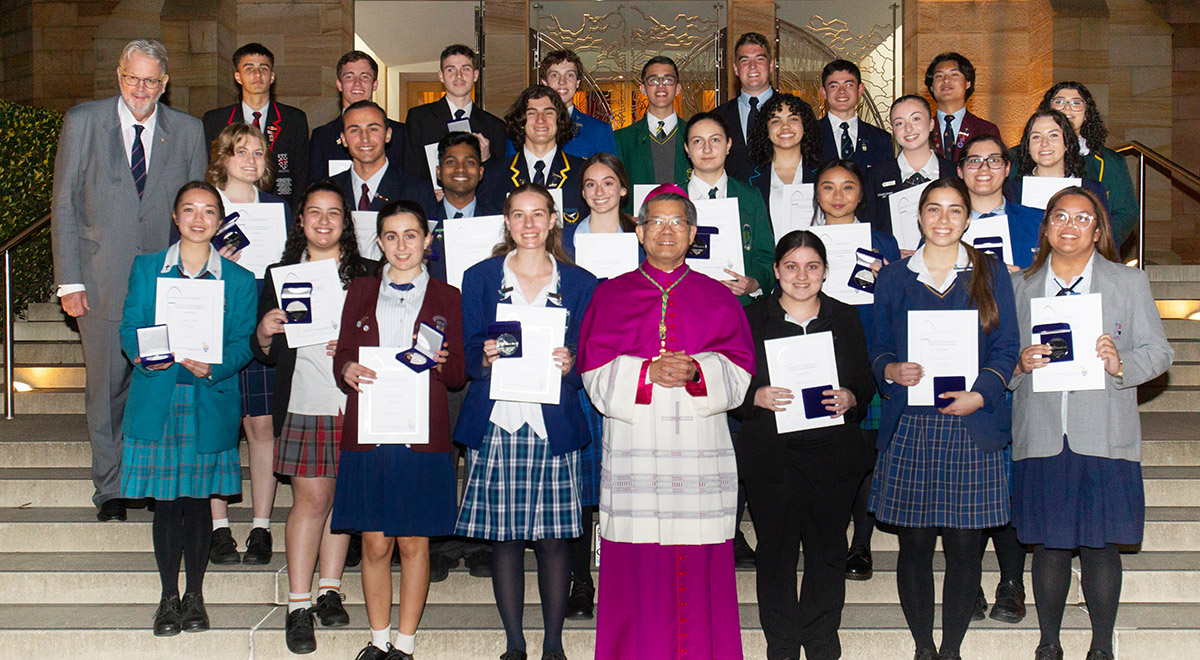 Twenty-eight outstanding young leaders from secondary schools across the Catholic Diocese of Parramatta were recently recognised by Bishop Vincent Long at the annual Bishop's Awards for Student Excellence.
Held at St Patrick's Cathedral Parramatta, the award acknowledges the contribution of exemplary Year 12 students to their school and local community, as nominated by their Principal.
"Like good and faithful servants, these students do not take for granted what has been entrusted to them: time, talent, ability, support system, family, friendship, mentoring," said Bishop Vincent. "The honour we bestow on them recognises not only what they have done but also the positive attitude with which they have imbued their environments and relationships.
"It is not so much the quantity of their deeds or their results but the quality of their commitment. They share the honour with loved ones and others who have supported them and made it possible for them to give of themselves," he said.
Executive Director of Schools Greg Whitby said it was a blessing to accompany the young leaders on their learning journey.
"Their contribution to their schools and the broader community is an inspiration," Greg said. "It teaches us all a lot about what excellence is."
Alisha Santos from Emmaus Catholic College Kemps Creek said she was honoured to receive the Bishop's Excellence Award.
"It was a unique experience that was extremely enjoyable," Alisha said. "I feel extremely grateful and blessed. There are some fantastic recipients from other schools and it is an honour to be awarded this alongside them."
Alisha was recognised for her applying her Catholic values alongside her strong academic prowess and being an active member of the Emmaus student leadership team, the music ministry and social justice initiatives including Project Compassion and the Winter Appeal.
Reeju Wilfred from Delany College Granville received the Bishop's Award for Student Excellence at his school. In his citation he was commended for his commitment to faith, learning and leadership.
He said the ceremony was amazing and that he was so proud to receive the award.
"The choir was stunning and enhanced the ceremony to give it a real sense of occasion," Reeju said. "I feel so happy and overjoyed to receive this precious acknowledgement from Bishop Vincent."
Reeju hopes to study a Bachelor of Nursing at the University of Tasmania next year.
Aiden Priestly from St Agnes Catholic High School Rooty Hill was recognised with the Bishop's Award for his leadership, compassion and integrity.
"As SRC President and Cultural Diversity Leader he initiated a team creating unprecedented involvement with Years 7 to 12 students. Aiden is approachable, compassionate and a person of integrity. He has embraced his Aboriginal knowledge and skill passed down by Elders, and used this mastery to help heal our communities," read his citation.
For Aiden, the awards were a special moment to share with his family.
"My family are very proud and very happy, they've seen me grow from a shy kid to being recognised as outstanding with this award," he said. "It has been an overwhelming experience." Aiden said he hopes to continue working with other Indigenous students in the years ahead.