Worthy recipients of Bishop of Parramatta Awards for Student Excellence 2014
17 Sep 2014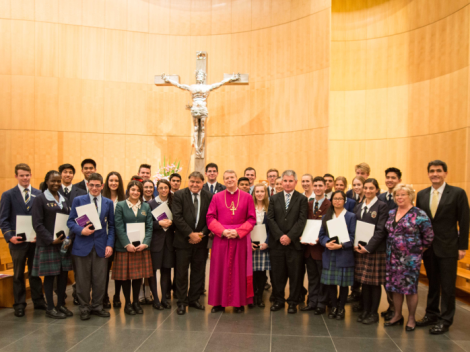 Congratulations to recipients of the Bishop of Parramatta Awards for Student Excellence 2014
The annual Bishop of Parramatta Awards for Student Excellence, which recognises the religious and academic achievement of senior secondary students across the Diocese of Parramatta, were held at St Patrick's Cathedral on Thursday 11 September.
The award acknowledges the contribution of one Year 12 student from each Catholic secondary school towards their school and local community as nominated by their Principal.
Following a beautiful sung Vespers by members of various school choirs, the Bishop of Parramatta Most Rev Anthony Fisher OP, and Catholic Education's Director System Learning, Sue Walsh, presented the awards to students for their outstanding work and shared words of encouragement as they prepared to for the end of their schooling.
Citing the many and varied community works the awardees are involved in, Bishop Anthony said he was impressed with their faith-filled lives.
'In the citations commending this year's recipients we hear of their outstanding witness to Catholic faith and morality, their intellectual, vocational, sporting, creative or performing achievements, their works for social justice and the community, their love of learning and 'school spirit',' said Bishop Anthony. 'I am especially pleased to note that some of the attributes of students who are receiving an award include that they are: faith-filled and have regular involvement in worship; passing on the faith in SRE classes in State schools; works of charity, social service and outreach; pilgrims at WYD; and models of academic diligence.'
Sue Walsh asked the students to thank their parents for choosing a Catholic education.
'Great trust has been placed in Catholic schools to work with families in the education of young people so that they are prepared for their place in the world as followers of Christ – in service of others,' said Sue. 'n this Diocese, while we pursue the highest educational outcomes for each child, we are focused on ensuring that our Catholic schools are places where our students grow in their faith and learn. You exemplify all that is good in Catholic Education.'
The event was attended by Federal Member for Parramatta, Julie Owens MP, State Member for Parramatta, Dr Geoff Lee MP, Federal Member for Macquarie, Louise Markus MP, Counsellor Bernard Bratusa, representing Federal Member for Lindsay, Fiona Scott, and Chris Worthington representing Member for Toongabbie, Nathan Rees MP.
Congratulations to the recipients of the 2014 Bishop of Parramatta Awards for Student Excellence:
Edinelle RABI, Nagle College, Blacktown South
Cristin WARDA, Caroline Chisholm College, Glenmore Park
Joseph MAXWELL, St Marks Catholic College, Stanhope Gardens
Anastasia BOULUS, Marian Catholic College, Kenthurst
Santa MANDERA, Delany College, Granville
Raymond SAYAH, Oakhill College, Castle Hill
Joseph WEHBE, Maronite College of the Holy Family, Parramatta
Stephanie AZZOPARDI, Bede Polding College, Windsor South
Zach FORTINI, St Pauls Catholic College, Greystanes
Carlos AMAYA, Wollemi College, Werrington
Jordan CHAMBERS, McCarthy Catholic College, Emu Plains
Lewis MANALILI, St Andrews College, Marayong
Casey PORTORS, Catherine McAuley Westmead
Edrian ACOSTA, Terra Sancta College, Quakers Hill
Ashleigh FULWOOD, Loyola Senior High School, Mount Druitt
Brigitte McINTOSH, St Patricks Marist College, Dundas
Oliver MORLEY-SATTLER, St Columba's Catholic College, Springwood
Adam BOIDIN, Patrician Brothers College, Blacktown
Shirley WEHBE, Our Lady of Mercy College, Parramatta
Jannik MATHIAS, Emmaus Catholic College, Kemps Creek
Stephen SAMSON, Parramatta Marist High School
Daniel SARKIS, St Dominic's College, Kingswood
Dorothea NOONE, Cerdon College, Merrylands
Alana ANGELI, Xavier Catholic College, Llandilo
Marianne DAHER, Tangara School for Girls, Cherrybrook
Joshua CONWAY, Gilroy Catholic College, Castle Hill
Bishop Anthony Fisher's homily is available to view
online
.