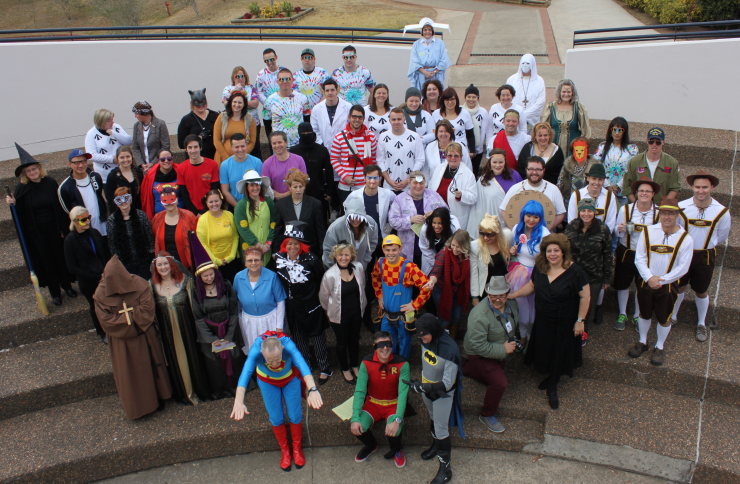 Walking Wonders at Emmaus
A visitor or passerby near Emmaus Catholic College at Kemps Creek on Friday, 8th August may well have been confused. Was this Chaucer's Canterbury Tales being re-acted? Not so, for there's a Batmobile, a Disney group, assorted TV characters all smiling, all walking, talking and laughing, obviously on some pilgrimage.

The occasion was the 2014 Emmaus Walk. Classes were suspended for the day and College staff were reminded to leave desks, computers and staff rooms, to be outside and involved in the many activities of the day.

Aleisha De Fague, one of the College Captains for 2015, said, "'We expect more' is a saying we have at Emmaus. I think the Walk Day met all our expectations. It was a fun, involved day from start to finish".

Bradley Smith, also a College Captain for 2015 agreed. "I've been to previous walkathons during my years here", he said, "they were fun experiences too, but this year the organisation and planning of the day was really superb". Commenting on how they saw the community in action, Aleisha and Bradley felt the wholehearted engagement of the staff was a major factor in the day's success.

"To see the teachers and support staff in their costumes was just such positive proof of how we operate here at Emmaus", said Aleisha.

With Principal, Dr Brad Campbell exchanging his normal professional dress for a Batman costume, aided and supported by Assistant Principal Michael Pate as Robin, and Executive member Chris Welch as Superman lurking nearby, the scene was set for a virtual parade. Medieval characters walked side by side with well-known TV characters such as Alice from the Brady Bunch, otherwise known as Emmaus receptionist, Lyn Weller. There were pretty maids, German dancers - even a religious sister or two.

Students were in bright colourful costumes as they undertook the Walk. Along the route there were drink stations and a First Aid station which fortunately was not needed. The funds raised through sponsorship will be used for the construction of shades for the bus area, which will be of comfort in hot and wet weather.
The fun didn't end when walkers returned to the finishing point on the College oval. Rides and entertainment, a BBQ lunch, Dodgem cars, a giant slide, 'Hurricane', 'Disco Show' and a Jumping Castle added to the fun of the day.

"Everything came together so well", concluded Aleisha. "The fund raising for our bus area shade, the getting together of juniors, seniors, staff, and then all the activities to end the day".

"It was so positive and just had such a spirit about it. We hope a community day like this will find a permanent place on future Emmaus calendars and we appreciate the effort and enthusiasm of our Principal and all the College staff", affirmed Bradley.