Village Connection
18 Nov 2015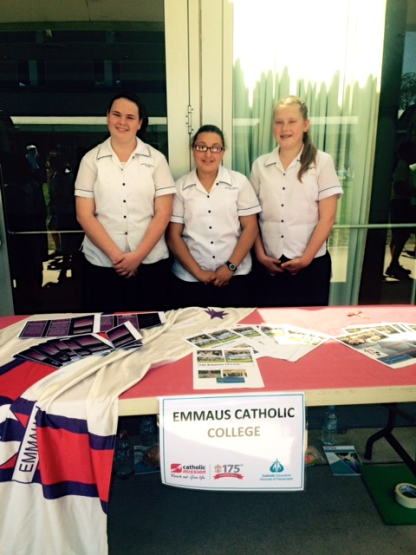 Through senior citizens the past may be explored while through young members of society the future is envisioned.
Connecting past and future to the present is the focus of an initiative encouraged by Emmaus Catholic College at Kemps Creek. Each Wednesday afternoon three students from the College visit the nearby Emmaus Village Nursing Home.
Emily Marczynski, Lynda Slyman and Jennifer Parnell spend the afternoon interacting with the residents. For many senior citizens who have no family members close by for visits, the time spent with the Emmaus students fills a very real need. They may wish to talk, share music or games, or simply enjoy the company of the young women. As well as being a happy interlude in their week, the Village residents are able to be informed by the girls about current events or special occasions.
Emily, Lynda and Jennifer find the experience very rewarding and a practical way to relate principles or social justice to something they can actually do. Their commitment of time and energy was acknowledged recently at the Diocesan Mission Mass and Expo held at St Patrick's Cathedral in Parramatta. At the Expo the students were able to explain their weekly activity at Emmaus Village.
"Emily, Lynda and Jennifer are excellent ambassadors for our school", proudly commented Mrs Kennaugh, Director of Learning and Mission at Emmaus Catholic College.