Tanya Davies MP inspires at Emmaus College
24 Jun 2014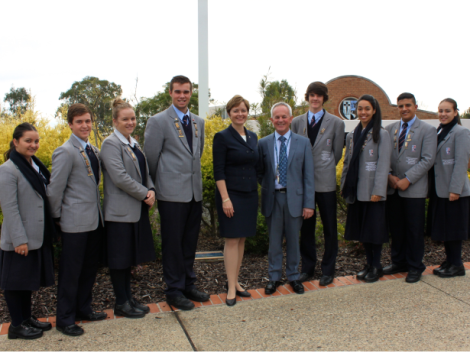 Tanya Davies MP with Principal Brad Campbell and student leaders at Emmaus Catholic College
Emmaus Catholic College, Kemps Creek welcomed State Member for Mulgoa, Tanya Davies MP, at a recent College assembly.
In an inspiring speech to students and staff at Emmaus, Mrs Davies outlined some of the challenges she has faced in progressing to her present career position.

Student Leader Aleisha De Fague said she enjoyed hearing Mrs Davies speak about leadership issues and career opportunities. 'That is very relevant and appropriate for us as we work towards our HSC and beginning our careers,' said Aleisha.

Students appreciated the opportunity to meet Mrs Davies. 'She is very supportive of Emmaus Catholic College and she encouraged us to approach her in the future with any questions or problems,' said Aleisha.

Fellow student leader Bradley Smith said Mrs Davies was very inspiring. 'I think she spoke on a very friendly and personal level which is something we appreciate here at Emmaus,' said Bradley.

Mrs Davies was impressed by students at Emmaus Catholic College and their interest in local issues.