Students and school leaders in the kitchen at Emmaus Catholic College
23 May 2014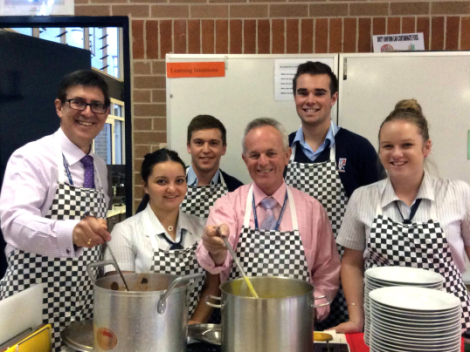 Students and school leaders enjoyed their time together in the Food Tech kitchen
Emmaus Catholic College Principal, Dr Brad Campbell and Assistant Principal, Mr Michael Pate, worked with student leaders to prepare and serve of soups to staff working on parent-teacher nights.
The cook-off was a chance for Dr Campbell and Mr Pate to spend some quality time with students and serve a wholesome meal for staff, in appreciation of their hard work and dedication.
Senior students enjoyed the chance to get to know their school leaders in the school's Food Technology kitchen.
'We spent most of the day preparing ingredients. It was an entirely new experience to stand at a kitchen bench with our Principal and Assistant Principal all working together,' said Ben Robb, School Captain.
'You build a different relationship of respect with the College Leadership when you see them putting on aprons,' said Joshua Moxey, Vice Captain.
Hours of hard work in the kitchen paid off as appreciative staff sent overwhelmingly positive feedback to the kitchen.
Mr Michael Pate said he enjoyed the opportunity to work with students and recognised the dedication of College staff.
'It's about service in action.' Michael said, 'that's an integral part of our community ethos Emmaus. It was a chance to join students, staff and the leadership team in a practical way.'