Senior Students visit Parliament House
11 Aug 2015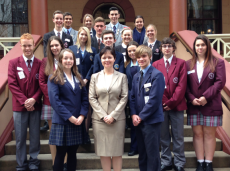 Tanya Davies MP, State Member for Mulgoa, was thrilled by
the success of the Mulgoa Senior School Leadership Forum yesterday.
17 students from local high schools attended the Leadership Forum at NSW Parliament House on Wednesday, 5 August 15, and had the opportunity to discuss leadership with The Hon Brad Hazzard MP, Minister for Family and Community Services, Jonathon O'Dea MP, Parliamentary Secretary for Major Events and Tourism, and Melinda Pavey MP, Member for Oxley and former Member of the Legislative Council.
The forum is an annual event initiated by Tanya Davies to inspire senior school students to think more broadly about leadership in our community.
"It is also an opportunity for me to recognize the hard work that school captains and leaders give to their school communities" Tanya Davies said.
The students from Penrith Anglican College, St Clair High School, Emmaus Catholic College, Glenmore Park High School and Erskine Park High School were acknowledged directly by the Premier and the Speaker of the Legislative Assembly. The students then watched question time in the Legislative Assembly Chamber and got to see the Premier and government Ministers in action.
Tanya Davies was impressed by the students' ideas and questions that were shared. "The students were great representatives of the talent in Mulgoa and they asked some interesting questions of the Members of Parliament" Tanya Davies said.
"Today was an experience I will never forget – the amount of sacrifice and hardships these amazing Ministers have endured to be where they are today is nothing short of incredible and awe-inspiring. I thank Tanya and all other Members of importance for sharing their stories and guidance in becoming the best us young leaders can be. Such a delight and privilege to attend this event" said Alaina Scutts of Glenmore Park High School.
"This forum was extremely worth it – the advice given by all the ministers was fantastic and extremely helpful. Tanya herself is an extraordinary role model; I'd recommend that students, not just leaders, consider contacting her. I thoroughly enjoyed the day, and I'm extremely thankful to all involved for allowing me the oppourtunity" said Ben Turnell of Glenmore Park High School.
Tanya Davies then gave the students a personal tour of Parliament House.
"I believe in our young people and their aspirations for themselves and their wider school and local communities" said Tanya Davies.
"It is important that our young leaders have an insight into how their government functions. This experience may have opened their eyes to wider possibilities for their own futures. I hope that the Forum challenged our young leaders to be confident, courageous, passionate and disciplined leaders to continue to make a difference in their communities" said Tanya Davies.