Relay for Life
31 May 2014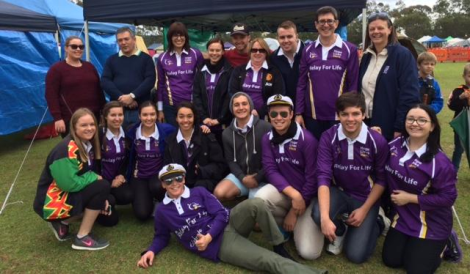 Relay for Life is a unique fundraising event for the Cancer Council of NSW. Survivors, carers, supporting friends and families join to celebrate and remember cancer sufferers.

Team Emmaus, comprising students and staff from Emmaus Catholic College at Kemps Creek participated in the Penrith Relay for Life early in May. This public event invited teams of up to 15 people to take turns walking around Howell Oval in Penrith over a 24 hour period. While the continuous walk took place, food stalls, entertainment and child face painting provided spectators and supporters with enjoyment.

On the Saturday 3rd May evening there were fireworks to encourage the lively spirits of the walkers whose aim was to raise funds for the Cancer Council of NSW.

Over $2150 was raised with all funds donated to the Cancer Council for research.

Mr Thomas Barton, an Emmaus Catholic College staff member encouraged and coordinated Team Emmaus. He expressed his appreciation of the support given by the staff members at Emmaus and of the students' efforts and cooperation of their parents.

"It is great to see our young men and women in an outreach event like this", he said.