'Questions are not there to trick students': 2018 HSC exams begin
19 Oct 2018
The importance of eating breakfast on the morning of HSC exams is one of the many pieces of advice imparted to every Year 12 student, but Mark O'Connor, teacher and leader of wellbeing at Emmaus Catholic College, is worried they won't listen. So he has decided to bring breakfast to them before the first exam on Thursday.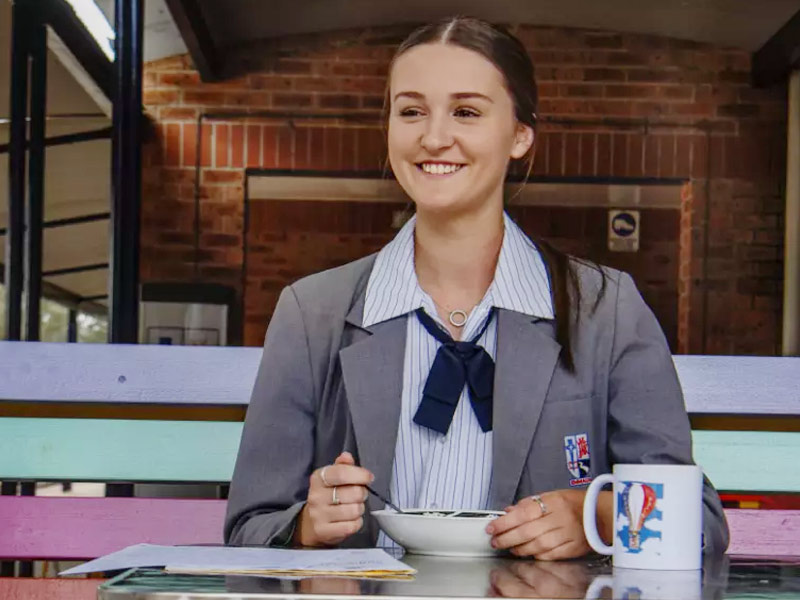 Jessica Alexander, 17, who is in Year 12 at Emmaus Catholic College, is feeling confident about the English exam. CREDIT:LOUISE KENNERLEY
"We're going to have breakfast together before the exam, I'll get some cereal, yoghurt, maybe some toast," said Mr O'Connor.
"I want them to get together and be with each other too, to talk and take the pressure off the exam."
About 76,730 students will sit the first English paper on Thursday morning, when this year's HSC exams begin.
English inspector at the NSW Education Standards Authority Louise Ward said nerves are normal, especially before the first exam, but said students have little reason to worry.
"The exam questions are not there to trick students, exam committees work very hard to ensure it's what students have studied that's going to be tested," Dr Ward said.
"On the morning of the exam the best thing they can do is remain calm and take confidence in the preparation they've done in the weeks prior to the exam and over the year, to feed any anxiety at that point is really unproductive."
Dr Ward said that once students get into the exam room, they should use the 10 minutes of reading time to understand the questions, take note of keywords, plan their responses and answer the question they feel most confident about first.
"The single most unproductive thing that students can do is to ignore the question on the paper on that day and answer last year's question or the question from the year before," Dr Ward said.
"Keeping those keywords in their mind and the question always in the forefront of their thinking right through is really important.
"Another thing some students can fall into the trap of doing is to get so caught up in their response they start retelling the story, that is never the focus of any exam question."
Jessica Alexander, 17, who is in Year 12 at Emmaus, said she is feeling confident about the English exam.
"I'm ready for it, I set up a timetable for everything and I've done that and little bits of extra work, I know all my quotes," Jessica said.
She said she has also tried to maintain balance in the lead up to the exams.
"I study for an hour and have a half-an-hour break. I play netball, I've kept doing that, and go out with friends," Jessica said.
Mr O'Connor said that over the 17-day exam period, students need to focus on getting enough sleep and make sure they're exercising and socialising.
"Some students have five or six days in between exams and they need to have some relaxation or social activity," Mr O'Connor said.
"Having a balance is healthier and will get a better result.
---
Read the full article online at the Sydney Morning Herald