Fast Feet from Emmaus
18 Nov 2015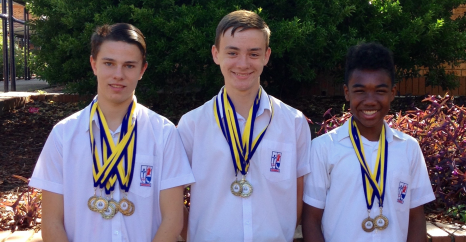 Laud Codjoe, a Year 7 student, excels at long jump.
At the PDSSSC, Laud set two new records being placed 1st in long jump at 5.29m. His other new record, also long jump at 5.29m was achieved at the Zone carnival. With 5.19m Laud was in 2nd place at the NSW CCC competition. He also won three other 1st places and two 3rd places, praiseworthy achievements for his age. Laud attributes his success to "my family where I have much encouragement". Asked about training Laud said, "yes, I do train three times a week not only to improve my performance, but because I really enjoy it. It keeps me fit and gives me goals to work for".

Another Year 7 student, Lucas Rose was also very successful at the same carnivals. Lucas' skill with the discus saw him set a new record of 49.81m at the NSW CCC, and new records for 1st place in discus, 1st in javelin at the PDSSSC, also 1st in discus with a new record distance at the Zone contest. Lucas' regular three times a week training sessions also paid off with two 1st and one 3rd place in shotput. "I did some high jumps too," he explained, "and I came 3rd in high jump at the Zone competition". Lucas thanks Rhys Stein for training advice "he encourages me to see where I can better develop my technique," said Lucas, "and family and school also provide great support".

The Emmaus competitors' skills range over many aspects of athletics. Luke Trevillian from Year 8 put on his running shoes to win the 100 and 200 metres at the NSW CCC. "I was pleased to be competing at State level", he said, "and I appreciate the way coach Taylor Currie has organised my training sessions, constantly helping me set my goals". Luke trains regularly. "It's the way to keep up your times", he said, "and it's great for general fitness too".

Laud, Lucas and Luke, as well as being sports stars for Emmaus Catholic College are splendid role models for other young competitors. They have committed themselves to help aspiring athletes also benefit from healthy competition and to represent the College on the field and track.