Making Korean connections at Emmaus
10 Jul 2015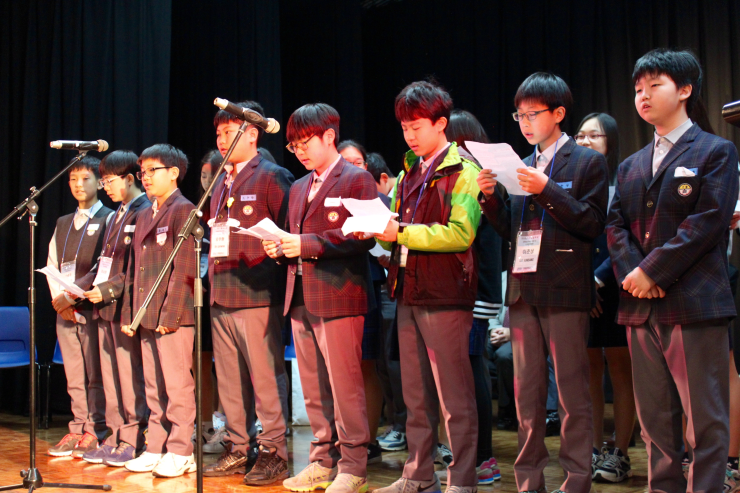 Korean students from Guryong Middle School performed Waltzing Matilda for Emmaus students at assembly.
Emmaus Catholic College, Kemps Creek, is a long way from Korea, but a strong, positive connection is in progress. A student exchange agreement has recently been formalised between Emmaus Catholic College and the Korean Guryong Middle School.
The cultural initiative which was founded by Emmaus' Korean teacher, Kyle Jung, recently saw Emmaus hosting 24 students and teachers from Guryong Middle School.
A staff morning tea welcomed the visitors with Year 7 and 8 students hosting the 24 students for the evening. A welcoming ceremony in the Emmaus hall began the day's activities.
The Korean students were interested in Emmaus' school environment and learning spaces, while the local students took advantage of the opportunity to ask questions and share ideas with their Korean friends.
Year 8 Emmaus student, Zachary Mehew, who was a guide for the students, said they found the space a very different environment to their school.
'The large Emmaus environment, oval and outdoor areas really impressed them,' Zachary said. 'They also said they liked the opportunities they were given to share information and to observe cultural differences.'
Year 8 Emmaus student, Rhian Dudman, spoke about the foods enjoyed by the visitors.
'I gave my Korean school friend a very large jar of Vegemite to take home,' Rhian said. 'I was very impressed the Korean students had learned 'Waltzing Matilda' especially to sing for us at assembly.'
Year 8 Emmaus student, Adrian Calleja, found common ground with Korean student Hawnung who was billeted with Adrian's family.
'It is great that Mr Jung has done so much to organise this visit and to foster and encourage our Korean language studies,' Adrian said.
'It is tremendously exciting to think we will go to Korea next year to visit Guryong Middle School,' Zachary said.
'We will renew the friendships we've made,' Rhian said. 'Meanwhile we need to work hard on our pronunciation.'
'I intend keeping in touch with my new found friend from Guryong School,' she said.