Flying the Diplomatic Flag at Emmaus
04 Dec 2014

Students and staff of the College warmly greeted the arrival of Whie Jin Lee, Consul-General of the Republic of Korea in Sydney. The Consul-General's public diplomacy strategy is committed to informing the Australian public on issues affecting Korea's relationship with Australia. Maintaining contact with Korean language programs at NSW schools is given high priority.

Yunwoo Kyle Jung, teacher of Korean at Emmaus Catholic College, immerses his students in Korean cultural experiences to enhance their language studies. Students visit Korean Cultural Centres, try Korean food and now have had the opportunity of the enriching session provided by the Consul-General. During the visit Mr Lee observed a Korean class and was delighted to see how much Korean the Year 8 students have learned over the year.

James Greening, a Year 8 student of Korean language, found the visit exciting. James, one of the 200 Year 8 students who study Korean at Emmaus, said "what I really liked was being told that our accents are really good. The Consul-General said he was greatly impressed by the way we at Emmaus are being taught to speak Korean. Also, I think he liked the Australian morning tea of fruit, mini quiches, juice and tea."

After a tour around the College, including a visit to the Korean classroom, the distinguished visitor addressed students in the College Hall.

"He told us how the Korean language developed," explained James, "and about the differences between North and South Korea."

The students found their guest very approachable and warmly interested in the Emmaus program which has been operating since 2013. Insights into Korean history, daily life and culture complemented the existing Korean language studies.

"It might be possible for some of us to visit Korea", added James, "or for some Korean students to come here. The Consul-General seemed quite interested in that idea, as did our teacher Mr Jung."

Dr Brad Campbell, Principal of Emmaus Catholic College noted the importance of the Consul-General's visit and expressed appreciation of Mr Jung's initiative in proposing and organising the invitation.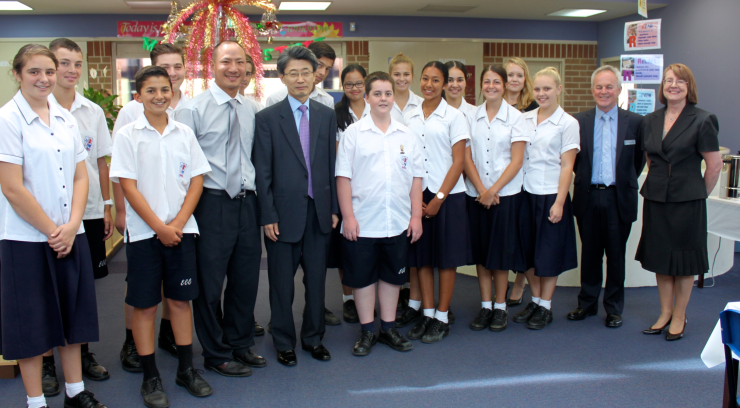 It's not every day that a stately diplomatic car drives onto the campus at Emmaus Catholic College at Kemps Creek.

Aline Lyons