First group of Year 12 students to receive Nursing Qualifications
13 Oct 2015
First group of Year 12 students to receive Nursing Qualifications
On 2 September 2015, 13 Year 12 students from nine schools across the Parramatta Diocese were the first group to graduate with a Cert III in Health Services Assistance (Acute Care) . The Nursing VET course was developed through the cooperation of Western Sydney Health, Notre Dame University, AusSIP and Catholic Education in the Diocese of Parramatta, in collaboration with Auburn District Hospital.
The course ran over two years at Auburn District Hospital and enabled students
to gain two units towards their HSC and also counted towards their ATAR. Successful students also received a place at Notre Dame university.
Throughout the course, students were exposed to many of the aspects of Nursing including the general wards, operating theatres, dispensary, emergency as well as the rescue helicopter.
Jacques Khoury and Robert Vallido from Parramatta Marist High School
Jacques Khoury and Robert Vallido from Parramatta Marist High School expressed having aspirations to complete tertiary qualifications in Nursing and the Paramedics.
Parramatta Marist's VET Curriculum Leader Gary Barton said both the boys excelled in their course with Robert having one of the highest academic results while Jacques was awarded the trophy for Excellence in Clinical.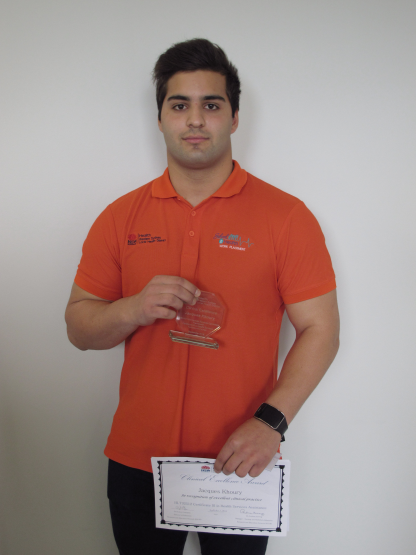 Jacques was awarded the trophy for Excellence in Clinical
'They were commended on their application to their studies as well as their attitude in environments that can often be confronting,' Gary said. 'This course is now running through Nepean Hospital for our current Year 11 students and may be based at Westmead for 2017.'
Catholic Education's Registered Training Orgainsation Manager Karen Ruppert students have a pathway to Notre Dame if they get a Band 4 in English and complete the qualification.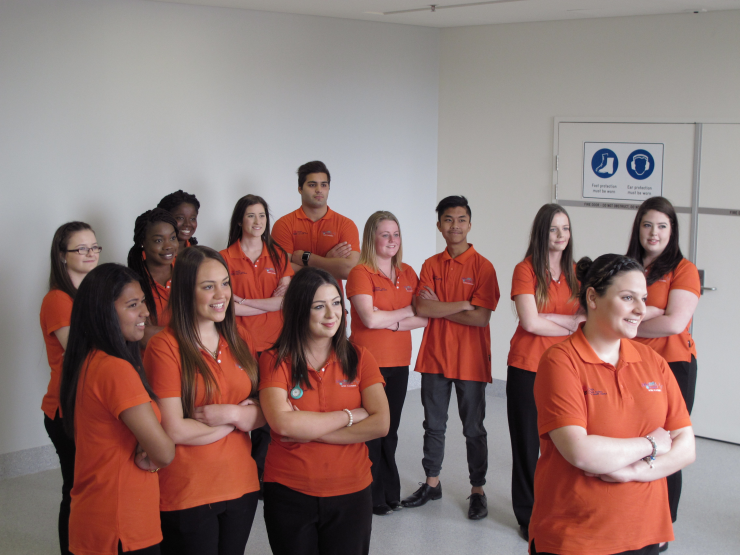 First group of Year 12 students to receive Nursing Qualifications
'This pathway will allow students access into these tertiary degrees without an ATAR,' Karen said. 'We are in partnership with Western Sydney Local District Health Service, NSW Health and Notre Dame University.'
'The practical nature of this course allows students to learn the theory and implement it in a real world practice situation,' she said. 'All the students have indicated that they will pursue a career in the medical field.'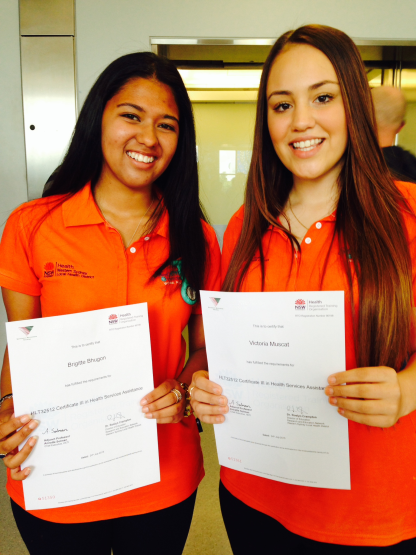 Bridgette and Victoria from Emmaus Catholic College, Kemps Creek
Emmaus Catholic College, Kemps Creek VET Leader of Learning Irene Pereira said both Emmaus students Bridgette Bhugon and Victoria Muscat who took part in the course worked very hard over the past two years.
'It's fantastic to see these opportunities to gain both real world skills and experiences being offered to students parallel with their Years 11 and 12 education,' Irene said.
Awards for excellence were given to:
Courtney Harper
St John Paul II Catholic College, Quakers Hill/Schofields
Outstanding Student
In recognition of outstanding effort, dedication and academic achievement
Elsy Elias
St John Paul II Catholic College, Quakers Hill/Schofields
Outstanding Effort
In recognition of outstanding effort and dedication
Jacques Khoury
Parramatta Marist High School
Clinical Excellence