Emmaus student tops Retail Services course
16 Dec 2015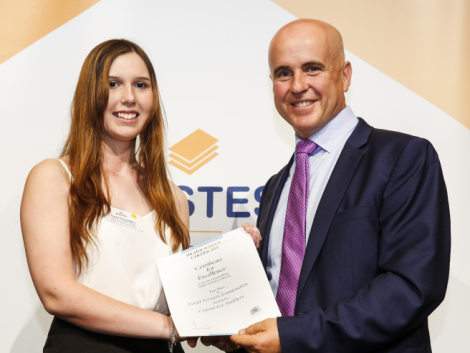 Crystal awarded Top Achievers award by NSW Minster for Education Adrian Piccoli
Crystal Lee Smithers from Emmaus Catholic College, Kemps Creek has achieved first in the state for Retail Services Examination. Accompanied by her proud dad, Crystal joined First in Course Award students from across NSW at an awards ceremony at Technology Park on Tuesday 15 December. The awards were presented by NSW Minister for Education Adrian Piccoli.
Crystal studied the Retail Services Examination through early commencement, a program that allows students to begin a HSC subject in Year 10. Currently in Year 11, Crystal still has a year at school to consider career options including psychology and law. Crystal is also the recipient of a Western Sydney University Academy Access Scholarship for when she begins university in 2017.
Executive Director of Schools, Greg Whitby commended Crystal on her exceptional result.
'Huge congratulations to Crystal, her teacher Melissa Else and to Emmaus Catholic College, Kemps Creek,' said Greg. 'First in course in NSW is an outstanding achievement and we couldn't be prouder.'
A focused student, Crystal also works part-time in retail as a Register Supervisor at Target, St Mary's Village, where she enjoys helping customers.
'Working in the industry gave me the practical side of things so I could apply my knowledge from work to the exam,' Crystal said. 'It hasn't really sunk in that I came first in the whole State but it feels really good.'
Crystal was supported in her studies by experienced Vocational Education and Training (VET) teacher Melissa Else who also has 22 years experience working in retail.
'I'm so proud of how hard Crystal worked in order to reach such a fantastic achievement,' said Melissa.
Education Minister Adrian Piccoli said securing first place was an outstanding achievement that students should be incredibly proud of.
'There are more than 70,000 HSC students across NSW this year and topping a course is an exceptional achievement,' he said.
Congratulations to all our students on their outstanding achievements.