Emmaus Catholic College student recognised for excellence
25 Sep 2014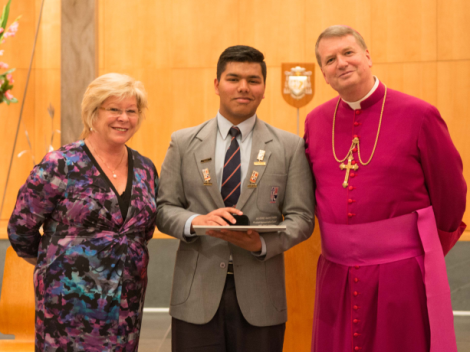 Jannik Mathias with Sue Walsh and Bishop Anthony Fisher OP
Jannik Mathias, Emmaus Catholic College was recently awarded the annual Bishop of Parramatta Awards for Student Excellence, which recognise the religious and academic achievement of senior secondary students across the Diocese of Parramatta
Jannik is a young man motivated by a drive to achieve excellence in all that he undertakes. This is reflected in his ongoing involvement with his parish where he is an altar server and church cleaner. Jannik has completed a number of programs and community service activities which have enabled him to achieve both Silver and Gold Awards at the College.
As a Class Captain and College leader he leads by example, encourages his peers to strive for excellence and to attend weekly Mass held at the College.
Jannik has already achieved a Band 6 in his HSC through his VET course and is ranked in the top 5 in several of the courses he is currently studying.
Jannik comes from an extremely supportive family where he is encouraged to appreciate the dignity of every person he meets.