Emmaus Catholic College student combines HSC with passion for dance
13 Nov 2014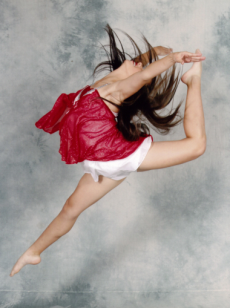 Talented dancer Emma Green
Emma Green from Emmaus Catholic College, Kemps Creek has finished Year 12 HSC studies on a high, after being selected to attend Brent Street Dance Academy.
Emma says that learning of her acceptance into the Academy was a dream come true.
'When I saw the acceptance email on my phone, I couldn't believe it,' says Emma. 'I had my best friend read it to me, and when the words of acceptance fell out of her mouth, we screamed together with so much joy.'
'It was unbelievable that my pathway to industry and career in dance and performing arts was finally coming true!'
Emma has been dancing for 15 years and says juggling dancing and HSC studies was a balancing act.
'I danced three times during the week, then all day Saturday, however still managed to find time for a part-time job, and a healthy social life,' said Emma. 'Emmaus Catholic College, offered multiple 'study periods' which allowed me to complete all learning preparation and assignments, enabling me to have spare time at home.'
Emma says being accepted into Brent Street is one step closer to achieving her dreams to work as a dancer. 'The hope of one day being a back up dancer or choreographer for a famous pop artist, or star in a Broadway show is now in reach,' she said. 'However, dancing can only take me as far as my body allows, so I'm also working towards a Bachelor of Business at university.'
Emma says that many of her teachers have gone above and beyond in many ways over her HSC years.
'Mr Whiley, my year 12 coordinator, has shown much dedication to his students,' said Emma. 'Each week, he taught us how to push ourselves and reach far beyond our potential.'
'Mr Whiley has helped me through the struggles of high school, socially and emotionally, and supported me through the hardships.'
'He is one of the many remarkable teachers at Emmaus Catholic College that I am sure to miss,' she said.