Cultural Connection
23 Aug 2016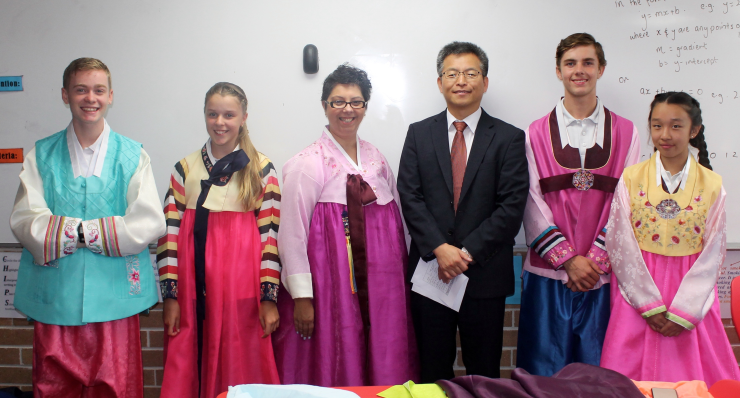 Emmaus Catholic College at Kemps Creek has established a firm, friendly contact with South Korea. Mr Kyle Jung, teacher of Korean studies at Emmaus has organised various activities which have established and developed the relationship.
Activities in which students from Years 7, 8 and 9 have participated include visits to the Korean Cultural Centre in Sydney and hosting Korea students from Suryong Middle School in 2015.
Korean diplomatic representatives have also visited Emmaus Catholic College, showing keen interest in the program of Korean language and cultural studies.
The most recent saw the College community welcoming Mr Whie Jim Lee, Consul-General and the Director of the Korean Education Centre Soo Whan Kang.
Ryan Cherne a Year 9 Emmaus student said, "it was really good to hear about Korea from the Consul-General and the information he gave us will be very useful for our students as we continue".
Kittibwa Mutebi, also from Year 9, agreed. "It gives you a different perspective to just reading or even viewing films", she said. "Because we are going on our school excursion to Korea in September, this year's Korean Day was even more significant to us".
A special feature of the day was the traditional Korean Fan Dance. Ryan described it as "very fast moving, very colourful and something probably not seen very often outside Korean circles".
Kittibwa added, "the costumes were beautiful, adding to the exciting feeling of the dance. Of course the fans were very exquisite".
The students concluded that the Korean Day activities with the compliment paid to Emmaus by the diplomatic visitor reinforces their interest in the subject.
"The highlight of our year will be our excursion to South Korea in September", said Ryan. "Mr Jung our teacher has planned some great experiences for us including visiting a Korean Folk Village, a museum, a theme park and a market".
Between now and September the Emmaus students will be highly motivated to work on conversation and pronunciation.