Col Shepherd Award
16 Dec 2015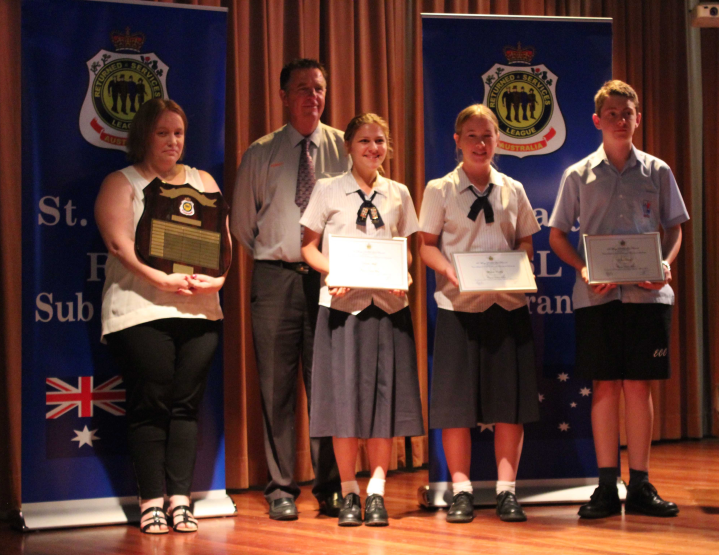 Three Year 10 students from Emmaus Catholic College at Kemps Creek are being congratulated on recent successes.
Madisen Carling, Peter Harvey and Caitlin Webb have been awarded Col Shepherd Memorial Scholarships from the St Mary's branch of the RSL.
Every year, St Mary's RSL Sub-Branch offers scholarships to secondary school students in the area. The scholarships have a total value of $5000 which is lodged with the winning students' school on their behalf. The students are eligible to draw from the fund for school necessities which greatly help in their senior years.
Initially, applicants for the Col Shepherd Memorial Scholarship submit their entries to their school's HSIE department. The best entries are then submitted by the College to the RSL for judging and awarding of the scholarships. Eligibility is available to all Year 10 students.
"It's a great opportunity" said Madisen, "and I found the research I had to do very interesting".
"As the topics for 2015 all related to World War I", explained Caitlin, "it fitted in well with so many stories, anecdotes and films relating to Gallipoli because of the Centenary".
Peter commented that he had been interested in World War I history even before entering for the scholarship.
"It encouraged me to think more deeply about the heroism and bravery of our fighting forces". He said, "and all the poems, essays, artworks and posters had to have that as a major theme".
When their projects were chosen for the awards the three Emmaus students were notified and invited to a presentation evening.
"We enjoyed a nice meal", said Caitlin, "and a few addresses by the RSL members who congratulated us and presented us with our certificates".
The projects submitted were individual student's work, not part of class, but the winning student felt supported and encouraged by Emmaus College teachers. "And of course our families", concluded Peter. "We all think the RSL St Marys is generous in providing the Col Shepherd Memorial Scholarships. As well as being such a practical help, it certainly inspires up to continue our studies of history".