Close shave for Leukaemia research
03 Apr 2014

Margaret Hopley loses her locks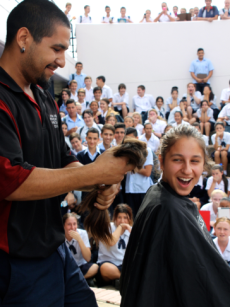 Bernadette Unatan-Isocof was encouraged by the Emmaus Catholic College community
School support officer, Margaret Hopley, from Mother Teresa Primary School Westmead and Year 8 student, Bernadette Unatan-Isocof, from Emmaus Catholic College Kemps Creek were among a number of school community members who shaved their heads in support of the Leukaemia Foundation's annual World's Greatest Shave fundraiser.
Margaret raised almost $4,000 and shaved her head at an assembly on 27 March saying the experience was overwhelming, but very worthwhile.
'Last year we had three families in the school who had children diagnosed with leukaemia,' said Margaret. 'This is my little way of helping.'
Bernadette shaved her head during recess on 14 March enthusiastically supported by her family, friends and the whole Emmaus community.
'If I can raise some money and encourage interest in this cause it will be well worth it,' said Bernadette.
Bernadette raised nearly $1,000 and also donated her long hair to be made into a wig for cancer patients.