All the Way for Emmaus Day
07 Nov 2014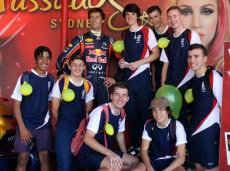 With the exception of HSC students who were at home involved in last minute exam revisions, the entire Emmaus Catholic College student community recently celebrated a 'big day out'. The annual Emmaus Day event was a huge success for students and staff with diverse, interesting experiences.
Boarding the many buses for different locations, the students delighted in the opportunity of leaving computers, books and timetables behind.
Each year had its own location; some to Jamberoo Recreation Park, others to Luna Park, Sydney city centre, the Aquarium or the Imax Theatre.
For Year 7 Emmaus students a close look at marine life provided much interest at the Aquarium. Anastacia Filer enjoyed the hands-on experience. "It was certainly a fun way to learn", she said, "and the starfish are really beautiful shapes". Lara Carroll, also of Year 7, liked the way visitors can be quite close to sea creatures. "When we went on the underwater walkway, we saw huge stingrays and some sharks, near enough to have a really good look at them", she commented. The Year 7 students agreed that the many displays were informative, "with always something new to discover" concluded Anastacia.
For Year 11 students the Amazing Race at Darling Harbour was a fun filled, challenging day's experience. Students were given varied tasks to be completed in specified times, with prizes awarded at the end of the day.
A typical task was for a student group to stand on a bridge and sing the National Anthem, to the curious stares of passers-by. As well as being entertaining the projects provided the Emmaus students with opportunities to explore and get to know parts of Sydney city.
Overall Emmaus Day celebrations, which are held annually, were a great success for students and accompanying staff.
Congratulating all the participants, Dr Campbell, Principal of Emmaus, said "I was most impressed by our students' participation in the events and their behaviour. We received many compliments on the day which was fantastic for community building".