Active and Aware
03 Dec 2014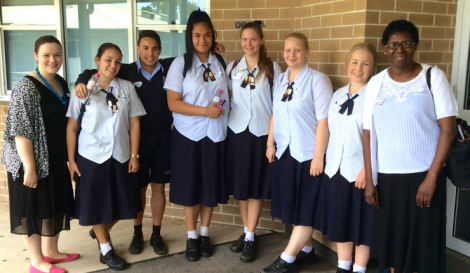 "You have to be aware before you can do anything to help." Victoria Muscat, a Year 11 student at Emmaus Catholic College at Kemps Creek commented on a recent experience in those words.
Together with other students and staff member Mrs Middeldorp, Victoria attended a Social Justice Conference at Mt Druitt organized by St Vincent de Paul group.
There were many representatives from schools throughout the region. "We came together to share ideas and be given information," said Emmaus student Barbara Leota Suatele. "We can't do much unless we are aware of problems, situations and possible solutions."
The knowledge of how other people, particularly those of similar age to themselves live, was an important part of the day's proceedings. Talks, videos, power point presentations plus question and answer sessions all provided opportunities for broad discussions.
"Human trafficking in some countries was something I hadn't really understood before these sessions," said Barbara.
The mature attitude and keen wish to become active in matters of social justice was a key theme of the day. After a BBQ lunch, which provided a happy forum for students to mix and relax, the afternoon's program allowed groups to share their own school's programs, vision and plans for future action.
"Even in small ways, even just in our local communities, we realize we can make a difference," added Victoria, "and a conference like this provided just what we needed."
Mrs Middeldorp commended the Emmaus students on their participation in the Conference.