RSL gift to library
16 Dec 2015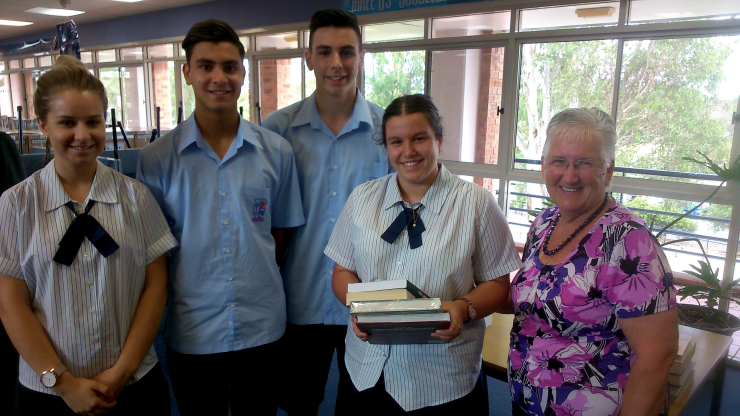 When the St Marys Sub-Branch of the RSL sold some land to the parent body RSL, it was decided to use some of the proceeds for the benefit of students.
The encouragement and support for young people in the St Marys area is a generous response to the RSL's positive response to need.

At Emmaus Catholic College at Kemps Creek, a gathering of representatives from secondary schools in the area heard Mr Ted Fish, Treasurer of the St Marys RSL Sub-Branch explain the history of the gifts. Each school received a donation, the funds to be used to fit the need, and an armful of books. The books had focus on Anzac or World War One as appropriate in this year for the Gallipoli Centenary.

The RSL officials who attended moved around the student groups informally after the presentations, willingly answering questions and listening to student concerns.

There is a strong link between the St Marys Sub-Branch and local schools which is consolidated at ceremonies for Anzac and Remembrance Day. An innovation which is practical, is the laying of a selection of books instead of a floral wreath at some of the ceremonies. Col Shepherd Scholarships, recently awarded, provided another opportunity for the strengthening of the friendship between the League and the schools, with senior members of the community reaching out to the bearers of our future.

The students thanked the RSL members who presented the gifts and all enjoyed refreshments in the Emmaus College Library.