Emmaus College welcomes local seniors for festive lunch
24 Jul 2014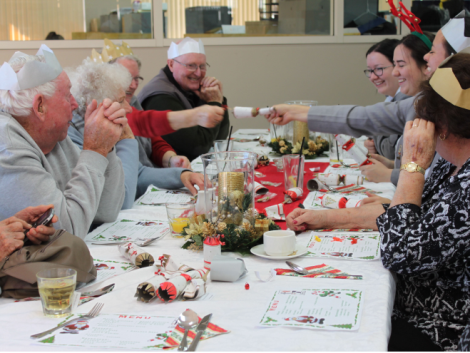 Seniors shared a festive lunch with students
Students from Emmaus Catholic College, Kemps Creek hosted a Christmas in July luncheon for the residents of nearby Emmaus Retirement Village recently.
Senior hospitality students at the College, under the direction of teacher Mrs Grills, prepared and presented Christmas fare in a beautifully decorated dining area.
Residents and carers look forward to the lunch that has become a tradition over the years.
Principal Dr Brad Campbell thoroughly enjoyed his first experience of the event.
'I had heard about it before I came here as Principal,' said Brad. 'But actually being here demonstrates the commitment and pleasure I see in the attitude of the students as they contribute to our wider society,' he said.
'The event gives us an opportunity to share a meal with some of our seniors and enjoy conversations and the company of our visitors,' said Assistant Principal Michael Pate.
Year 11 student Elise Brown said that Year 11 and 12 Hospitality students work hard with the preparation and setting up.
'It's a great experience, even before the actual serving and cleaning away,' said Elise. 'It's hard work but it is all done in such a cheerful spirit.'
Following dessert and a Christmas carol, guests were treated to a visit from Santa Claus. The lunch was a great success with guests from the Village thanking Emmaus College for the Christmas lunch, which was universally enjoyed.