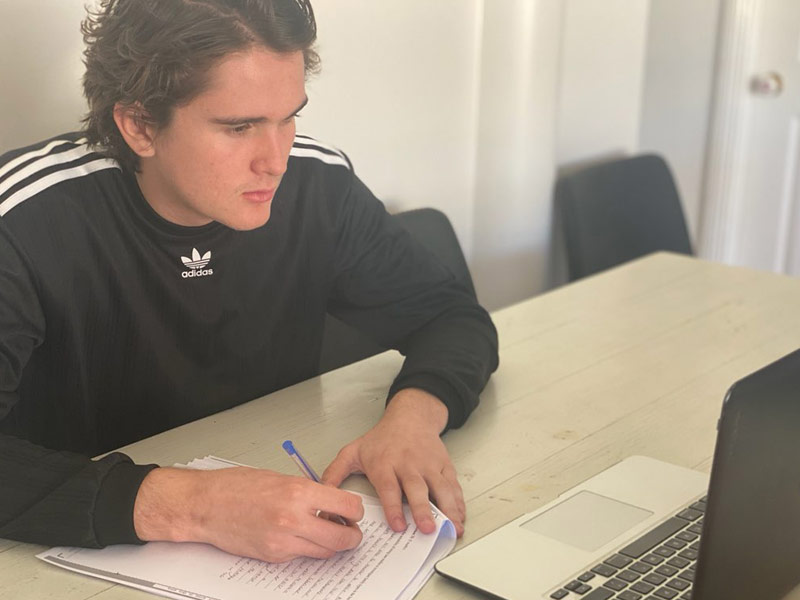 Emmaus Catholic College School Captain Harlam Filer. Photo: Melinda Jane.
Teachers and students are trying to stay focused as the pandemic continues to make changes to learning.
The NSW Government announced last week that HSC students could return to school from August 16 while the rest of students would stay learning remotely.
Emmaus Catholic College School Captain, Harlam Filer said the plan to return to face-to-face classes provided some clarity but also prompted a lot of questions in regards to safety.
"The potential to return to school in the coming weeks has provided clarity with regard to the upcoming HSC trials and somewhat restored hope in many of us regarding the remainder of our final year," Harlam said.
"The uncertainty still remains and all I can do is prepare as I normally would during these unprecedented times." With the logistics of HSC students being vaccinated and receiving rapid COVID-19 tests not cemented, the 17-year-old from St Clair said he was not letting the current circumstances distract him.
"Regardless of the format of trials and how the HSC ends up going ahead, the game plan is still the same for me in terms of preparation so I can finish off 13 years of schooling on a good note," he said.
"It is very difficult as we try to navigate it all but my peers are all helping each other, our teachers have gone above and beyond to be available and while I have concerns, I am dedicated to getting a good final mark for my ATAR." With plans yet to be fully established, Emmaus Catholic College Principal, Robert Nastasi said the school in Kemps Creek was focused on keeping normality for students.
"Our juniors only Zoom in once a week and then we post work on Google Classrooms throughout the week and have a great system to keep up with how they are going," Mr Nastasi said.
"Our Year 11 and 12's Zoom every day with teachers as we push forward as normal as we can. we know it is tough, but the HSC is tough so we are keeping up their spirits and making sure they are prepared."